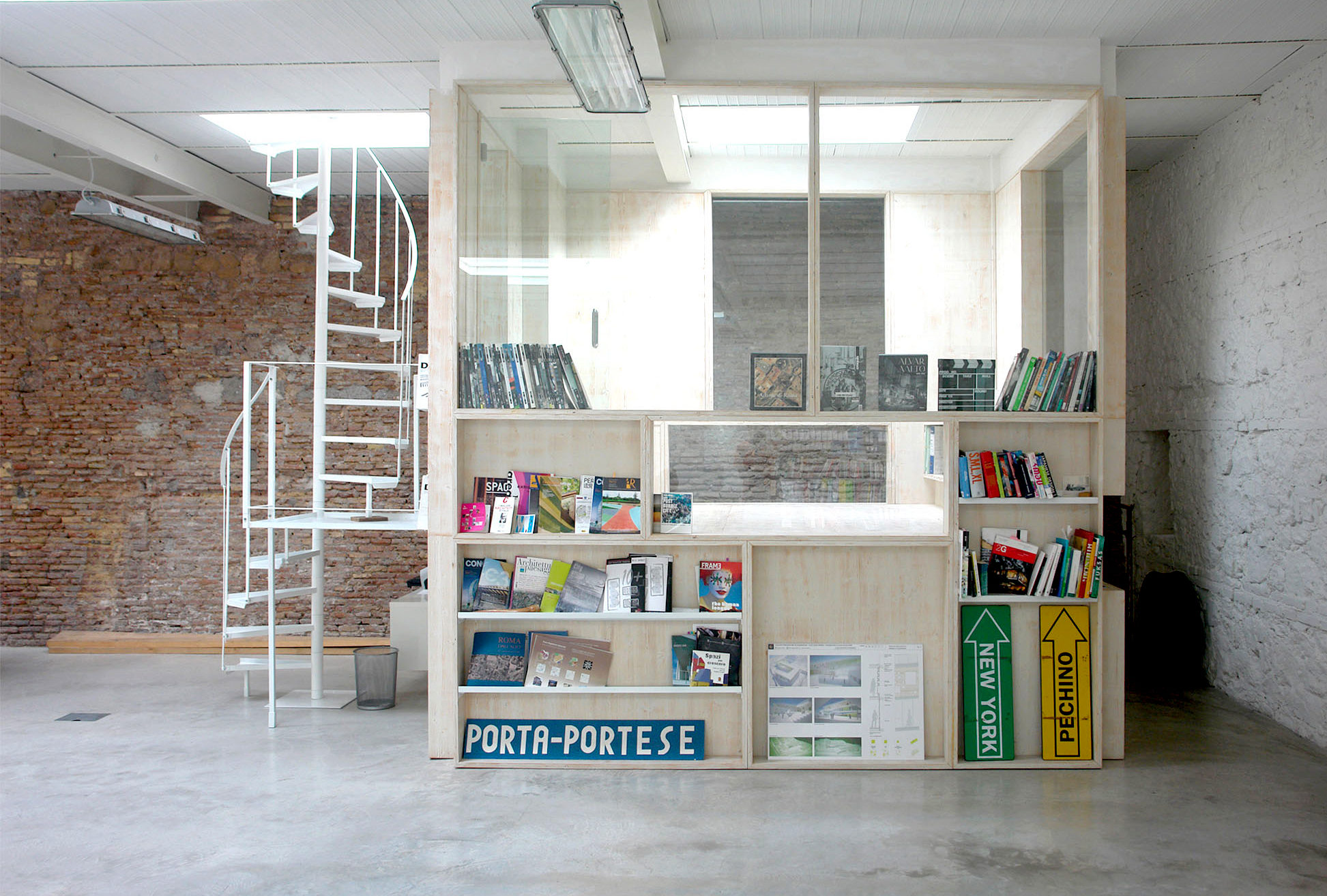 AKA is an architectural practice founded in Rome in 2000 by its three associates: Federica Caccavale, Alessandro Casadei and Paolo Pineschi. Over the course of its twenty-two years of existence AKA has been engaged in numerous architectural projects in various scales, from urban masterplanning to interior and temporary exhibitions design, working in all the phases, with particular attention to environmental sustainability.
Among the more major projects the renovation of the Headquarters of World Food Programme (WFP), the headquarters of the ADNKronos Press Agency , a Prototype of Noise Reduction Barrier commissioned by the Italian Railways (RFI), the restoration of the German Archaeological Institute in Rome, the GMC Congress Centre, the refurbishment of the German Ambassador's Residence in Rome, the renovation of the Cassa Depositi e Prestiti Headquarters, a Masterplan for the recovery of the Castellammare di Stabia's Waterfront (with Massimiliano Fuksas), a complex including a mall, an hotel, an office building and a public park in the "Castelli Romani" region, as well as the Project Management for Arsenal Section of the 2000 Venice Biennial.
AKA has participated in many national and international architectural competitions with success results, winning and receiving numerous acknowledgments: 1st prize in the Cetes competition for a TV centre in Reggio Calabria, 1st prize for the project of Caselle Torinese new City Hall, 1st prize for an ecological house prototype to be commercialized In Germany, Switzerland and Italy, 2nd prize for the Monserrato University Building in Cagliari, 2nd prize for the extension of Farnesina High School in Rome, 3rd prize for the Felino Didactic centre in Italy, honourable mention for a Food and Agricultural Centre in Samugheo, honourable mention for the new Cosenza's planetary, honourable mention for a Daycare Center in Cazzago San Martino, honourable mention for an elementary school in Bagno a Ripoli, Italy.
Some of AKA's works have been published in various Italians and International magazines including: C3, Dezeen, Area, Design +, Arketipo, ONoffice, Space Korea, Concept, Perspective Hong Kong, Architettura Bioclimatica, Il Sole 24 Ore, Il Mondo, Vimadeco Mag, Architettura Naturale, Class, Edilizia e Territorio. Soon to be published an Actar Edizioni architectural volume. 
FEDERICA CACCAVALE, ALESSANDRO CASADEI, PAOLO PINESCHI
ANGEL ALMENDARIZ FERNANDEZ, DAVIDE ANTONELLI, GRAZIANO GIANCATERINA, SARAH KAKAL, ERNESTO MAYERA', BARBARA PAZ ROSSI MATURANA, ELENA OCAÑA, EVA PERRICCI, MICHELE RUSSO
COLLABORATORS - 2007/2022
MARTINA ACCARDO,  MABEL AGUERRE, ELENA BACCARI, ROBERTA BATTAGLIA, BLANCA BEA CIRAUQUI, FRANCESCA BERRERA, ROSA BIANCO, SARA BRASCHI, MARIA TERESA BRUCA, STEFANO CAMPISI, VALERIA CHIOZZI, FRANCESCO CARRARO, ALESSANDRO CASA, VALERIO CASTELLANA, COSTANZA CAMPORINI, COSIMO CANNITO, FABIO D'AGNANO, NADAV ENGEL, MARCO D'ALESSANDRO, JARED DAVENPORT, JOSHUA DELISSEN, DANIELE DAMIANI, RICCARDO DOTTORI, LAURA DI DARIO, GIULIO FANNI, GRETA GAILIUTE, MARIA GERARDI, FEDERICA GRECO, AUBREY HARDCASTLE, MARTA HRVATIN, AINHOA IGERATEGI ETXEBERRIA, EVELINA KNODEL, GABRIELE LANCIA, VALERIO LAZZARETTI, FEDERICO LEONE, MARIA RITA LONGO, ADAM LOSKOTA, HELENE LUCAS, RICCARDO MAGNISI, ONNO MALTE MANZER, GIACOMO MARAFINI, ELISA MAZZOLA, CHEUK MING NG, SILVIA MOLINARI, FEDERICO NADDEO, DOMENICA STEFANIA NOVELLINO, KEIKO NOGAMI, FLAVIANA PANDOLFI, DAVIDE PAPAGNA, SILVIA PECCI, CARLO MARIA PERUCCI, CONSTANTIN RIEKEHR, MASSIMILIANO REA, BIANCA ROMANI, FABRIZIO ROMANO, LUCA SACCOCCIA, ALESSANDRO SEPE, ALICE SPEZIALE, PIA RUNGE, DANIELE SANDRI, JACOB SCHOENECK, MARZIO SCOTTONI, NANINE SEHLKE, FRANCESCA SPADACCINO, FULVIA TALLINI, ANJA TRICARICO, FLAVIA VALDARNINI, CLAUDIA VILELA, DIMITRIS XYDADIS